Drill pipe REG and IF REG are common, whereas alternative tools like FH aren't found within the tool look.According to the expertise of the cook, the REG buckle and IF buckle are usually five /in and four /in severally. However, IF the buckle is larger than 4-1/2 ", though it's four /in, it's REG buckle. In alternative words, IF it's larger than 4-1/2 ", it's typically REG buckle
1)REG(API Regular Thread)
Thread utilized in traditional drill pipe joints.This type of thread has been wont to connect the inner thickened drill pipe, forming the inner diameter of the drill pipe joint is smaller than the inner diameter of the thickened finish of the drill pipe, and also the inner diameter of the thickened finish of the drill pipe is smaller than the diameter of the pipe body.
2)IF(API Internal Flush)
Thread utilized in internal flat kind drill pipe joints.This type of thread is employed to attach the skin thickened or the within thickened drill pipe to create the inside diameter of the drill pipe joint. the within diameter of the thickened finish of the drill pipe is that the same or on the point of the inside diameter of the drill pipe pipe.
3)FH(API Full Hole)
As the name suggests, the attention button is that the eye.What concerning the eye?It is to indicate drill pipe joint within diameter and drill pipe add thick finish inside diameter.And not with the drill pipe body diameter, each are usually smaller than the drill pipe body diameter.Figure 1-7 could be a comparison of the 3 kinds of buckle.
1)LTC(Long Thread Connector)
The LTC threads are of identical form because the STC threads and might be connected, however connections are usually not allowed as a result of they need completely different most force values.
2)STC(Stub(Short) Thread Connector)
Both STC and LTC threads belong to API customary thread. the sole distinction is that the thread length is completely different. The longer thread is LTC, the shorter one is STC, and also the 4-1/2 "outer diameter pipe.
3)BTC(Buttress Thread Coupling)
BTC is incredibly completely different from LTC and STC, however kind of like NewVam, it will solely be distinguished from the skin diameter and purpose of the string.
Cangzhou Steel Pipe Group (CSPG) Co., Ltd. is a large-sized, key metallurgic enterprise of Hebei Province in North China, whose history dates back to 1994. CSPG currently em/paces six member companies with products varying from SSAW, LSAW, ERW, seamless steel pipes to 3PE pipes, galvanized pipes, casing pipes, etc. A Joint-stock corporation, CSPG occupies an area of 600,000 square meters with a total asset of $530 million.
Specialized in the production of straight welded pipe spiral pipe galvanized pipe 3PE/3PP/FBE/TPEP internal and external epoxy powder internal and external epoxy resin cement mortar two cloth three oil buried pipeline IPN8710 non-toxic drinking water internal and external plastic coated lining plastic and other anti-corrosion pipe fittings for oil and gas pipeline water conservancy projects
Executive standard :DIN30670 DIN30678 CSA Z245 AFNOR nf49-710/711 NACE rp0394/0490 AWWAC 210/C213GB/T9711 API 5L ISO 3183Material: Q235B/Q355BGR A GR B x42-x80 l245-l555
Business scope: 21.3mm-3620mmLSAW submerged arc welded pipe 325-2020mmERW straight welded pipe 6mm-711mmSMLS seamless tube 10-1120mmSSAW spiral steel tube 219-3620mmDemand for quality suppliers and partners
5" O.D. x 4 1/4" I.D.

5 1/2" O.D. x 4 5/8" I.D.

6 5/8" O.D. x 4 3/4" I.D.

7" O.D. x 5 7/8" I.D.

8 5/8" O.D. x 7 1/2" I.D.

9 5/8" O.D. x 8 7/16" I.D

9 7/8" O.D. x 8.575 ID

10 3/4" O.D. x 9 1/2" I.D.

11 3/4" O.D. x 10 3/4" I.D.

13 3/8" O.D. x 12 1/8" I.D.

16" O.D. x 15" I.D.

18" OD x 17" I.D.

21" OD x 19" I.D.
Drill String Design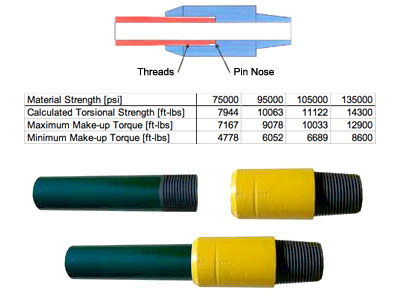 Holly Pipe and NST can mass produce a variety of common drilling tools, but if you have an idea for a single custom tool or prototype, we can assist you with design and manufacturing. Let us know how the tool will be used, provide us with a sketch and you can be reassured the tool will meet your requirements. For example: Water well drill pipe is commonly manufactured by shortening 31' to 20' pipe and milling wrench flats on the box end. Our 3 ½" 15.50# print shows the in-house pin connection for water well drillers. Visit our machine shop for more information.
For more information please contact us.
Return to top of page